First-Line Supervisor Institute 2021
Includes a Live Event on 04/21/2021 at 1:00 PM (EDT)
Register

Non-member - Free!
Member - Free!
Components visible upon registration.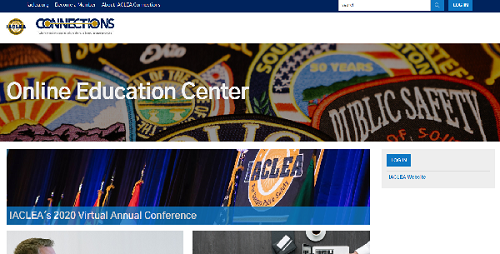 How do I log in to my account?
If you are an IACLEA member, you can log in using your IACLEA CONNECTIONS credentials by clicking on the "Log In" button at the top right of the main page and enter your login credentials provided.
To receive a member discount on classes, click here to become a member. If you are not a member, forgot your password, or are not sure if you have a login you need to create a free account by clicking the "Get Started" link on the login page.
Once your account has been activated, click on the "Log In" button at the top right of the main page and enter your login credentials provided.
TroubleShooting:
As we present the on the Online Education Center, we share these tips for smooth participation.
Browsers: Please use Firefox, Chrome, Edge, or Safari. Please don't use Internet Explorer 11.
Login: Please make sure you are logged in with your username and password, and it says "You are registered" in the top right on the page. Please make sure you are on the "Contents" tab. If you are not seeing the "Enter Webinar" button please double check your start times. If you are within 5 minutes of the start time, please refresh your web browser.
Your browser must support HTML5 and it is recommended that you use the latest versions of Chrome, Mozilla Firefox, Edge or Safari. Test your browser settings before accessing course materials in order to confirm compatibility.
Can't Re-enter Webinar: If you leave and are having trouble returning, log out of the Online Education Center completely (close any browser from which you tried to access the site). Clear your browser history, specifically the cookies and cache. Once that is done, log back into the Online Education Center and try again. [Instructions to clear browser history (cookies and cache). https://www.whatismybrowser.com/guides/how-to-clear-cookies-browsing-history-and-cache/auto ]
If you are still experiencing issues with logging in or access, please contact info@iaclea.org or call 855-4-IACLEA (855-442-2532).
The Institute is developed for senior officers, mid-level supervisors, corporals, and sergeants. It is a useful course for individuals recently promoted to those positions and a valuable preparatory course for those seeking to advance to supervisory roles.

FLSI begins on April 7th and the course will be taught in two, four-hour sessions each of the first three weeks in April and one four-hour course to conclude the Institute on April 28. Courses will be recorded for students who miss a live class.
A team of experts has developed the curriculum, which will be organized around three overarching concepts: know yourself, know your staff, and know your assignment. The curriculum will cover the following topic areas:
Effective Performance Management
Implicit Bias
Officer Wellness
Preparing for Civil Unrest
Transformational Leadership
Transitioning from Officer to Supervisor
Registration is open